Free Safety Moments, Hard Hat Chats, Pre-Start talks, Toolbox Talks and Lessons Learned Tips and Resources
You will probably not find many of these in text books or regulations …… Discover what they are here >>>>>
QUESTION: How effective was your last safety moment? Did you end up doing more harm than good? If people detect even a hint of hidden agenda or it comes across as contrived or a tick n flick then you are wasting your time and theirs………..
What is a Safety Moment?
This concept seems to have evolved in recent years, based on the similar concept of the toolbox talk or pre-start meeting. They are generally short and sharp (3 – 5 minutes). They can be held at the start of a shift, at random times during the day or at the start of a meeting. They could cover a range of topics depending on what is relevant or important at the time ie seasonal, after a holiday or weekend, when work conditions change or following a spat of a particular type of incident.
Safety Moments – POPULAR>>>>>> Download Safety Moments from Human Resources Secretariat
See more here>>>>>>> 129 BRILLIANT IDEAS FOR SAFETY TOOL BOX TALKS, HARD HAT CHATS And SAFETY MOMENTS
Free Risk Assessment Forms >>>>> FREE RISK ASSESSMENT FORMS, TEMPLATES and APPS
Toolbox Talk Fact Sheet Toolbox Talk Fact Sheet (6213 downloads)
Safety Moment Series From Halliburton: Safety Moment - Bypassing Safety Controls (5105 downloads)
Coronavirus Resources and Toolbox Talk
With the continued threat of Coronavirus we have published a toolbox talk which can help educate your staff on how best to deal with this threat. The below also give access to additional information relating to COVID-19. You can also download a copy here: Coronavirus - Covid 19 Toolbox Talk (6996 downloads)
Control and Prevention
See them all here: https://www.osha.gov/SLTC/covid-19/controlprevention.html
Measures for protecting workers from exposure to, and infection with, the novel coronavirus, COVID-19 depend on the type of work being performed and exposure risk, including potential for interaction with infectious people and contamination of the work environment. Employers should adapt infection control strategies based on a thorough hazard assessment, using appropriate combinations of engineering and administrative controls, safe work practices, and personal protective equipment (PPE) to prevent worker exposures. Some OSHA standards that apply to preventing occupational exposure to COVID-19 also require employers to train workers on elements of infection prevention, including PPE.
OSHA has developed this interim guidance to help prevent worker exposure to COVID-19.
U.S. Department of Defense
Regardless of specific exposure risks, following good hand hygiene practices can help workers stay healthy year round.
General guidance for all U.S. workers and employers
For all workers, regardless of specific exposure risks, it is always a good practice to:
Frequently wash your hands with soap and water for at least 20 seconds. When soap and running water are unavailable, use an alcohol-based hand rub with at least 60% alcohol. Always wash hands that are visibly soiled.
Avoid touching your eyes, nose, or mouth with unwashed hands.
Avoid close contact with people who are sick.
Interim guidance for specific worker groups and their employers
This section provides information for specific worker groups and their employers who may have potential exposures to COVID-19. Guidance for each worker group generally follows the hierarchy of controls, including engineering controls, administrative controls, safe work practices, and PPE. However, not all types of controls are provided in each section; in those cases, employers and workers should consult the interim general guidance for U.S. workers and employers of workers with potential occupational exposures to COVID-19, above.
Healthcare Workers and Employers
Deathcare Workers and Employers
Laboratory Workers and Employers
Border Protection Workers and Employers
Solid Waste and Wastewater Management Workers and Employers
Medical Information
Take steps to prevent worker exposure to COVID-19.
What should I do if I think I have been exposed to or infected with COVID-19?
Hazard Recognition
Identifying potential sources of exposure
Some Free Safety Moment Resources:
Halliburton
Halliburton say they start each and every meeting with a safety moment. They keep a stock of safety messages for our employees, customers and anyone who visits their website. They cover a range of topics including work permits, malaria, PPE, ladder safety and electrical lockouts.
Safety Moment Series From Halliburton: Safety Moment - Bypassing Safety Controls (5105 downloads)
General Collection: Safety Moments - General Collection (8284 downloads)
Download their Safety Moment Powerpoint Presentations
Download their Safety Moment Sheets in pdf
Safetymoment.com provide a collection of free safety moments from around the world. Categories include: Environmental, Remediation, Load and Transport, Fire, Office Fire Prevention, Health >>, OSHA Heat Safety Spanish, House and Home,  Poison Ivy, Landfills, Basic Waste Applications Training – Landfill Video (2001), Earthquake, Safety Awareness Test, Refinery and Plant
Total Safety
Of course someone had to develop a safety moment app. Check out this demo of Total Safety's Industrial Safety Moments app. The industrial safety moments app provides you with OSHA-based safety moments that make learning fun and improve compliance.
Safety Moments
from https://www.exec.gov.nl.ca/exec/hrs/employee_health_and_safety/safety_moments.html
A Safety Moment is a brief safety talk about a specific subject at the beginning of a meeting or shift. Also known as safety minutes or safety chats, these talks can be done in a variety of ways, but are typically a brief (2-5 minute) discussion on a safety related topic. They can cover a variety of safety topics and remind employees of the importance of being safe; at work, at home and in all aspects of our lives.
Including a Safety Moment at the beginning of your meeting can help bring safety issues or topics up in a timely, clear, brief, and non-threatening way. Safety Moments are designed to reinforce safety knowledge and everyone's commitment towards a positive safety culture.
The listing of Safety Moments is general information not meant to replace departmental policy, protocol or safe work procedures, but to remind us about the importance of health and safety, help us recognize and control hazards, increase awareness and contribute to a culture of safety. Remember, there are potential hazards in all workplaces.
This listing has been created to provide employees and managers with ready access to Safety Moments for use in their meetings. We will continue to create additional Safety Moments to add to the database. Any suggestions for a Safety Moment or information on a safety topic can be forwarded to them
Also posted are presentation slides which can be downloaded and included in any presentation where you are starting with a safety moment.
How about sharing some of your safety moments resources in the comments below?
3 Ways to Make Your Safety Moments More Personal – by EHS Today
Whether it's at the start of a meeting, a shift or a conference call, we've all likely taken part in some form of a safety moment, where someone briefly talks about a specific topic related to safety.
Does your company do safety moments? If so, what do you consider to be an effective safety moment? It's an interesting question, and one that I took a bit for granted until recently. I've heard people do safety moments in many different ways, with varying degrees of relevance to the actual work environment, but they all bring us back to the importance of safety in some way. READ MORE >>>>>
Safety moment examples often focus on core protocols, which, while important, can become dull. And when safety training becomes dull or routine, workers are more likely to check out. Try livening up your safety moments with some unconventional topics. This is a great way to re-engage staff—something new and unexpected will perk up your listeners. It's also an effective way to go beyond conventional regulations, because while OSHA or other standardized regulations are important guidelines, in order to keep your staff safe, you need to go beyond regulations and get specific about your work environment. Regulations should be your base-level requirements, not your end goals. MORE >>>>>
Industrial Safety Moments App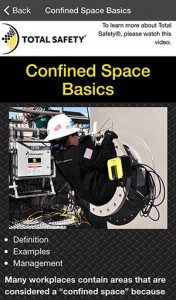 Example of a safety moment available in the app.
This convenient new tool is a compliance and training oriented approach to shared safety moments and easily accessible directly on your mobile device.
Total Safety designed the Industrial Safety Moments app with workers in mind. Total Safety experts applied more than 20 years of safety experience to develop real-world, relevant topical overviews, and conversation starters.
Plus each Total Safety Industrial Safety Moment links to the relevant regulatory requirements, making it easy to access and share critical information.
Users can find the perfect safety moment content by entering the app through the market specific – industrial channels on the opening screen. Once in the industrial channel of their choice, they can search by solutions in a wide array of safety categories such as gas detection, emergency rescue, fire prevention, respiratory protection, industrial hygiene, and much more.
Total Safety also provides a convenient tool at the bottom of each safety moment that allows users to receive a slide of that safety moment for insertion into a presentation. And, with the touch of a button, users can easily share the app with a friend.
The Total Safety Industrial Safety Moments App can be downloaded straight to your IOS or Android device:
Download from iTunes Store
Download from Google Play